Tourist Information
Reykjavík Official Tourist Information Centre
Tjarnargata 11, 101 Reykjavík, Iceland
Hours: Monday – Sunday 08:00 – 20:00
Local information for visitors.
Health and Safety
Travel in Iceland presents very few health problems. Tap water is safe to drink; the level of hygiene is high, and there are no endemic nasties. A travel insurance policy that covers medical mishaps is strongly recommended.
Iceland has a very low crime rate and in general any risks you'll face while travelling here are related to road safety, the unpredictable weather and the unique geological conditions. A good place to learn about minimising your risks is Safetravel (www.safetravel.is). The website is an initiative of the Icelandic Association for Search and Rescue (ICE-SAR).
Emergency Telephone Numbers
Police/Fire/Ambulance: 112
Police (non-emergency): (+354) 444-1000
Emergency Room Landspítali Hospital: (+354) 543-2000
Dental emergencies: (+354) 575-0505
Healthcare Services (out of hours): (+354) 1770
Currency and Banking
Currency
The Icelandic currency is the Krona.
Abbreviation: ISK
Exchange rate, valid on 15 November 2018: EUR 1 = ISK 140.39
Currency Exchange
You can change money in all banks located in the city and Keflavik Airport. Online currency converter banks are open on weekdays from 09:00 – 17:00. Some banks are also open on Saturdays from 10:00 – 16:00, and on Thursday evenings from 17:00 – 20:00.
ATM
ATMs are found throughout the city, though not all ATMs are accessible 24 hours.
Icelandic ATMs generally accept all major debit, credit, and cash-only cards.
Credit Cards
The use of credit and debit cards is very common in Iceland, which people rely on to pay for even the smallest of purchases. Almost all hotels and most businesses in the country accept cards. When in doubt, ask in advance.
For lost or stolen credit cards call
American Express: (+354) 800-8111
Master Card & Diners Club: (+ 354) 533-1400 / (+354) 550-1500
Visa: (+354) 525-2000
Business Hours
Most shops are open Monday-Friday from 09:00 – 18:00 and Saturday from 10:00 – 14:00 and 17:00, depending on the shop. The Kringlan shopping centre is open Monday – Thursday 10:00 – 18:30, Friday 10:00 – 19:00, Saturday 10:00 – 16:00 and Sunday 13:00 – 17:00. Some supermarkets are open till 23:00 seven days a week. Banking hours are Monday – Friday 09:15-16:00.
Time Zone
In May, Iceland operates on UTC.
Electricity
EU standard: 230V 50 Hz – round two-pin plugs.
Weather
In May, the average temperature is around 6 degrees Celsius.
Reykjavik is often windy so make sure to bring a suitable jacket.
Guide to Reykjavik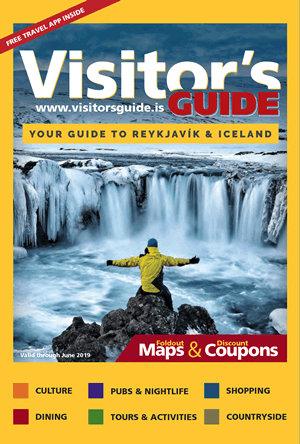 Is it your first time in Reykjavik? Visitor's Guide Iceland has put together a useful guidebook, so we thought
we'd share it with you
(63,2 MB pdf). It will help you make the most of your time in Reykjavik outside of the meeting. In this guide, you'll find both practical information, great city tips and how you can learn more about their Viking history!
Useful phrases
| | | |
| --- | --- | --- |
| Greetings | | |
| Hello | Halló | Hah-loh |
| Good morning | Góðan dag | go-han dah |
| Good evening | Gott kvöld | goht kvult |
| Good night | Góða nótt | go-han not |
| Goodbye | Bless | bless |
| How are you? | Hvernig hefur þú það? | kver-nik her-wer thoo thahd? |
| I'm well, and you? | Ágætt, en þú? | al-gyt, en thoo? |
| Good, thanks | Ágætt, takk | al-gyt, tak |
| | | |
| Essentials | | |
| Please | Vinsamlegast | vin-saam-leh-gast |
| Thank you | Takk fyrir | tak fi-rir |
| You're welcome | Ekkert að þakka | eh-kehrt ath thah-ka |
| Yes | Já | yaw |
| No | Nei | nay |
| Excuse me (getting attention) | Afsakið | av-sa-kith |
| I'm sorry (express regret) | Því miður | thvee mi-thur |
| I don't understand | Ég skil ekki | yeh skil eh-ki |
| I'm sorry, (didn't hear) | Ha? | hah? |
| Do you speak English? | Talar þú ensku? | ta-lar thoo en-sku? |
| | | |
| Questions | | |
| How much does that cost? | Hvað kostar það? | kvadh kos-tar thadh? |
| Where is…? | Hvar er…? | kvar er..? |
| When? | Hvenær…? | kven-ighr? |
| May I please have…? | Gæti ég fengið…? | gigh-ti ye fen-kidh…? |
| | | |
| Eating Out | | |
| Beer | Bjór | byor |
| Wine | Vín | veen |
| Water | Vatn | vat-re |
| I don't eat… | Ég borða ekki… | ye poor-ah eh-ki |
| I'm a vegetarian | Ég er grænmetisæta | ye er gryn-met-is-igh-ter |
| The bill, please | Get ég fengið reikninginn? | get ye fen-kidh rayk-ning-yin |
| | | |
| Getting Around | | |
| Left | Vinstri | vin-stri |
| Right | Hægri | high-kri |
| Straight ahead | Beint áfram | bay-nt aw-fram |
| Turn left | Beygja til vinstri | bey-jah til vin-stri |
| Turn right | Beygja til hægri | bey-jah til high-kri |
| Bus stop | Strætóstoppustöð | strigh-toh-stohp |
| Airport | Flugvöllur | blu-kvojt-lur |
| Entrance | Inngangur | inn-gang-gur |
| Exit | Útgangur | oot-gang-gur |
| | | |
| | | |
| Emergencies | | |
| Help! | Hjálp! | hya-oolp! |
| I need a doctor | Ég þarf lækni | yeh tha-rf lie-kni |
| I don't feel well | Mér líður ekki vel | m-yer lee-thur eh-ki vel |
| Call the police! | Hringið á lögregluna! | kring-gith a uk-rek-luna! |
| Fire! | Eldur! | el-dur! |