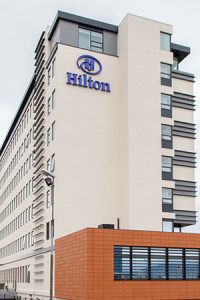 Hotel Hilton Reykjavik Nordica
Suðurlandsbraut 2
108, Reykjavík
Iceland
Tel: +354 444 5000
RIPE 78 attendees can take advantage of a discounted room rate of ISK 27,488 (approximately €198) including breakfast, Wi-Fi and VAT. The discounted rate expires on Monday, 15 April 2019 and subject to availability.
Reserve now to avoid disappointment!
Booking: You can book your accommodation on the Hilton Nordica website using this RIPE 78 booking link. You need to provide your credit card details in order to secure your reservation.
Alternative Accommodation
All suggested hotels are located within walking distance from the meeting venue. Please note that the discounted rates are subject to availability.
Alternative hotel options can be found via travel sites like booking.com, hotels.com, or through travel agents.